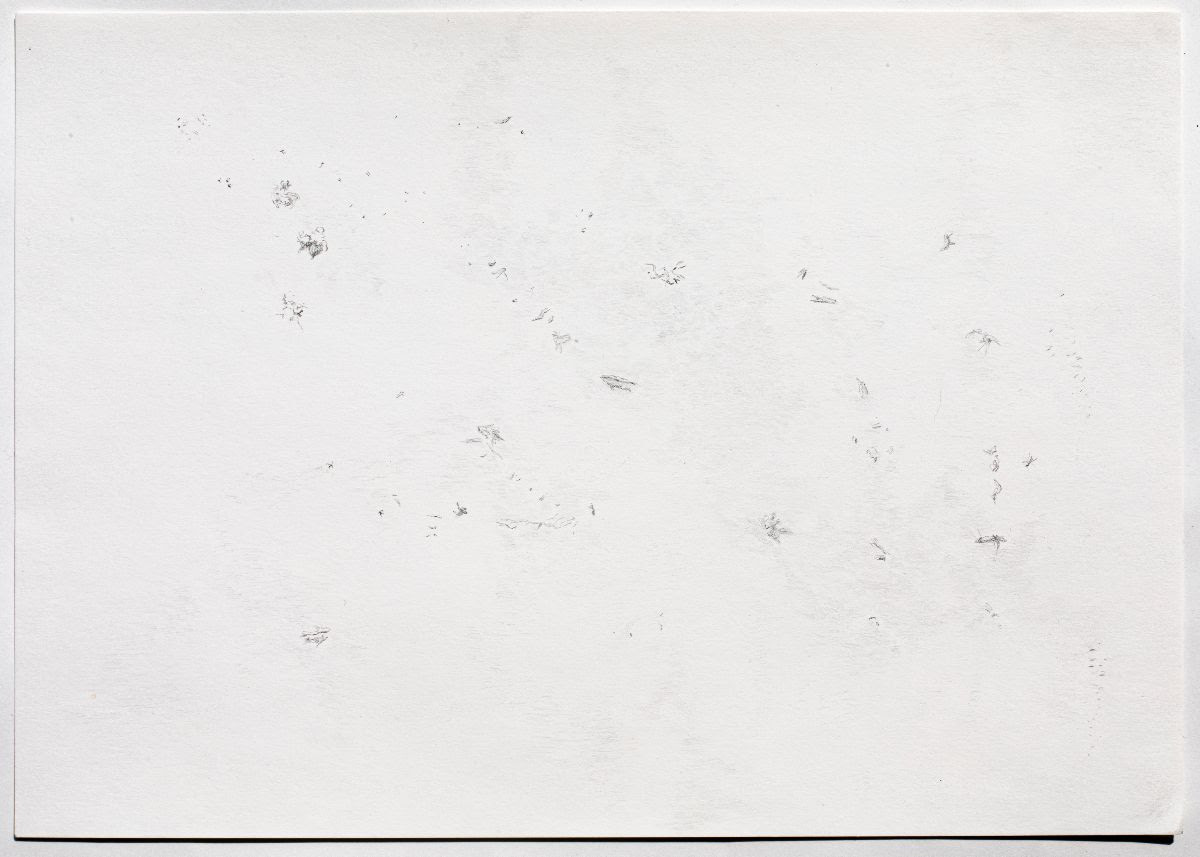 artist talk at Marble Hill Camera Club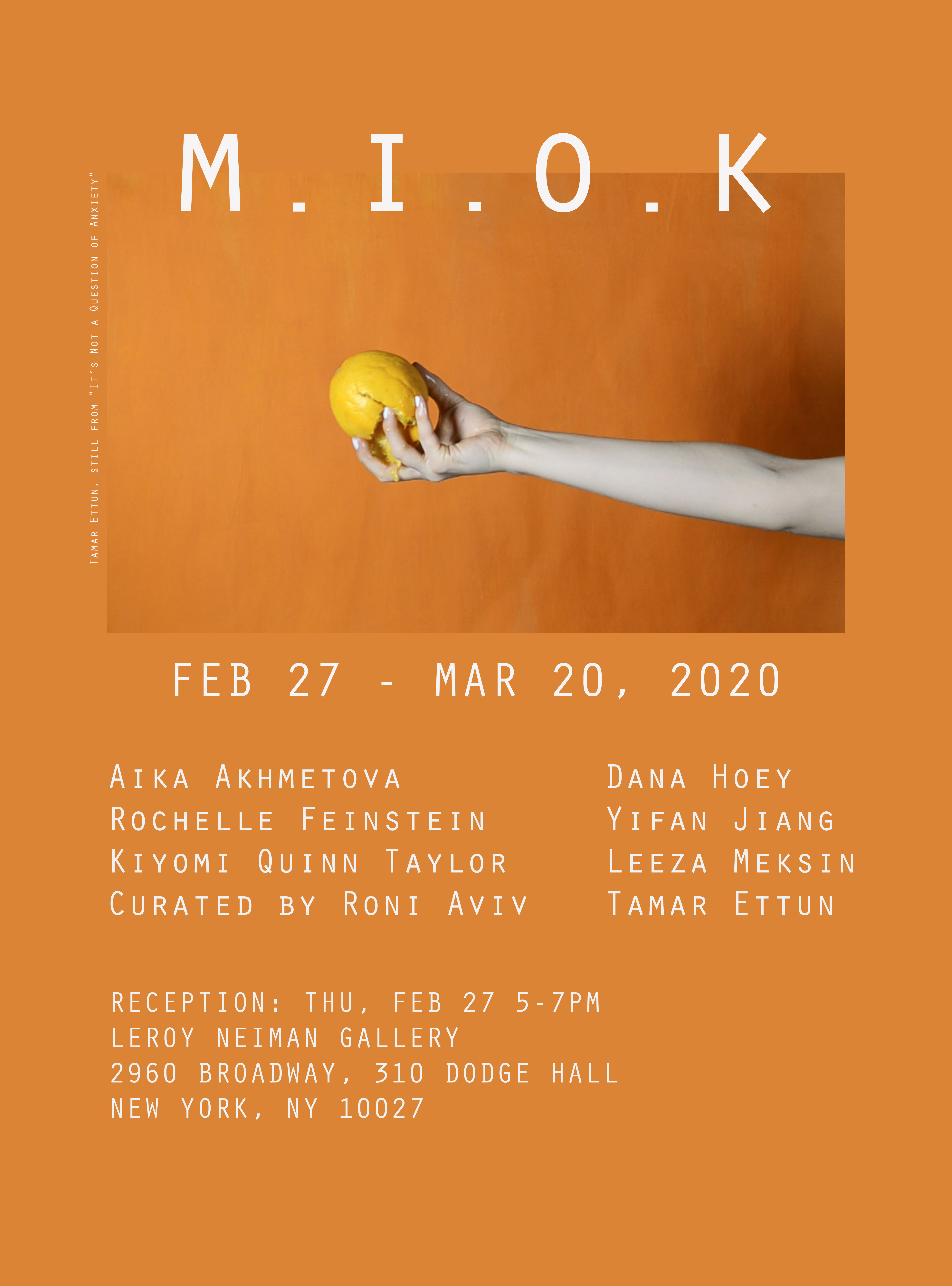 **m.i.o.k**
Opening Feb. 27th 5-7pm
Closing Mar. 20th
LeRoy Neiman Gallery, Columbia University

Aika Akhmetova, Tamar Ettun, Rochelle Feinstein, Dana Hoey, Yifan Jiang, Leeza Meksin, Kiyomi Quinn Taylor

Curator: Roni Aviv

m.i.o.k is an exhibition featuring the work of seven contemporary artists. It reflects on the absurdity of being. Each artist, in their own way, challenges the 'socially appropriate' norms and constructs.
**Aesthetically Functional Only**
July 25th - August 10th
Opening: Wednesday, July 24th, 6-9 pm

Columbia MFA Summer Show
Curated by Edsel Williams


1675 Broadway
New York, NY
10019
**In Response: A Crack in Everything**
Sunday, May 5th, 2019
6:30 – 9 pm

Join Columbia University Visual Arts MFA candidates and recent alumni as they present new video, sound, performance, and installation-based artworks in response to the exhibition Leonard Cohen: A Crack in Everything.

Participating Artists:

Roni Aviv
Fontaine Capel
Julian Day
Vikram Divecha
Clare Koury
Saskia Krafft with Noah Rott
Katharine Marais
James McCracken
Bradley Pitts
Bat-Ami Rivlin

The Jewish Museum
1109 5th Ave at 92nd St
New York, NY 10128
**Visual Arts first year MFA exhibition 2019**
March 30–April 14, 2019
Opening: March 29th, 6–8pm

Please join me and my peers in our show, summarizing our first year in Visual Arts program, Columbia University.

Curated by Natalie Bell

Aika Akhmetova, Henry Anker, Catalina Antonio Granados, Roni Aviv, Patrick Bayly, Eric Brittain, Susan M B Chen, Joanna Cortez, Mónica Félix, Fontaine Capel, Baris Gokturk, Jenn Hassin, Yifan Jiang, Clare Koury, Wai Lau, Yushan Liu, Paula Lycan, Cara Lynch, Erica Mao, James J.A. Mercer, Katie Miller, Bradley Pitts, Yi Sa-Ra, Stipan Tadic, Kiyomi Taylor, Pence Wilson, Mark Yang

arts.columbia.edu
lenfest.arts.columbia.edu
wallach.columbia.edu

Miriam and Ira D. Wallach Art Gallery at Columbia University
615 W 129th St
New York, NY 10027
USA
**Tease**
December 3rd, 2018, 9:00 pm

A night of performance and video

315 Prentis
632 W 125th Street
New York
**Visual Art MFA candidate, Columbia University, NY**
Moved to NY, New York
**The Spring and The Hawk**
Opening Reception: July 30, 2018, 9:00pm

Group exhibition

KULI Gallery
10 Mikve Yisrael St
Tel Aviv
**Contemplations on Transitions and Bodies in the Digital Age - Conference **
**"Stretch Marks" - Artist Talk**
July 5th, 2018, 16:30 pm - 22:00 pm

Artist Talk with Ronnie Karfiol

Closing Event at Morehshin Allahyari & Lior Zalmanson exhibition "Rendering Borders"
__[**more info**](https://www.facebook.com/events/407937216357888/)__

Art Cube Artists' Studios
26 HaUman St
Jerusalem
**Publication Feature**
June 2018

RAPSODIA Magazine Issue 19 is available for pre-order __[**now**](http://www.rapso.org/rapso19/)__

*RAPSODIA is an Italian arts and literature magazine founded in 2014
**The Outer Body - Artist Talk**
Saturday, June 9, 2018
Noon - 12:00pm

BINYAMIN GALLERY
5 Hameretz St, building 7, level 3
Kiryat Hamelacha
Tel Aviv
Israel
**The Outer Body**
May 17-June 9, 2018
Opening Reception: May 17, 2018, 8:00-11:30pm

BINYAMIN GALLERY
5 Hameretz St, building 7, level 3
Kiryat Hamelacha
Tel Aviv
Israel

__[**http://www.binyamin-gallery.com**]( http://www.binyamin-gallery.com/theouter)__

BINYAMIN GALLERY is pleased to present The Outer Body, a group exhibition curated by Roni Aviv.

Participating artists are Eti Levi, Meytar Moran, Sivan Elirazi, Roni Aviv, Ronnie Karfiol, Shlomit Liver, Shoshanah' Ciechanowski, Tamar Sheaffer.

The exhibited artworks deal with different aspects of the body in contemporary times. They rethink and expand the understandings of the traditional body, while examining the nature of both the physical and the implied body which now exists between physical and virtual spaces. This expansion allows for stretching boundaries of the actual body and beyond it. With works in different mediums such as VR (Virtual Reality), Video, Installation, 3d Rendering and Photographic Assemblage, the exhibition presents a diverse spectrum of new possibilities of body and existence, demonstrating what constitutes the body and the being, while the body of both the artist and the spectator is undermined and reformed.
**Eye Poke**
May 12 - May 15
Opening Reception: May 12, 2018, 8:00-11:30pm

Dual exhibition by Roni Aviv & Naama Rona

INDIE GALLERY
5 Hameretz St, building 7, level 3
Kiryat Hamelacha
Tel Aviv
Israel